Kohlrabi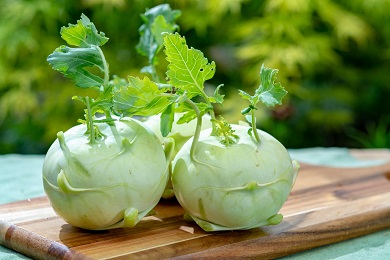 Health Rating
Recommend Daily in Limited Supply
Latin Name
Brassica oleracea Gongylodes Group
Description
Kohlrabi, also known as German turnip, is a vegetable related to wild cabbage. Kohlrabi has crinkled leaves resembling kale with a light green bulbous base.
For Your Pet
Rabbits can eat the kohlrabi stems and leaves as a daily food in moderation, and the bulbous part only as a treat sparingly. Feeding your rabbit the bulbous vegetable part may cause bloating and gas and the leaves should not be used as a substitute for their daily diet of hay.
Warning
This is okay to feed your pet in moderation.