Leek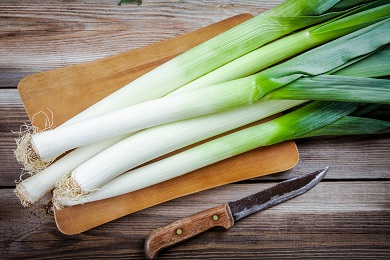 Health Rating
Never Feed (but not poisonous)
Latin Name
Allium ampeloprasum
Description
The leek vegetable has a mild, sweet onion-like flavor and the base is firm and crunchy. The leek plant is related to the same vegetable family as onion, garlic, shallots, and scallions. These are all called Allium vegetables.
For Your Pet
Avoid feeding your rabbit vegetables from the onion family. If your small pet eats plants like leeks, onions, and chives, this can cause blood abnormalities.
Warning
Although leeks are not poisonous, you should never feed them to your pet.
Resources
For more information about what not to feed your bun, click here.
Resource Links
http://blog.rabbitholehay.com/4-Things-You-Shouldnt-Feed-Fluffy-to-Satisfy-That-Rabbit-Food-Craving